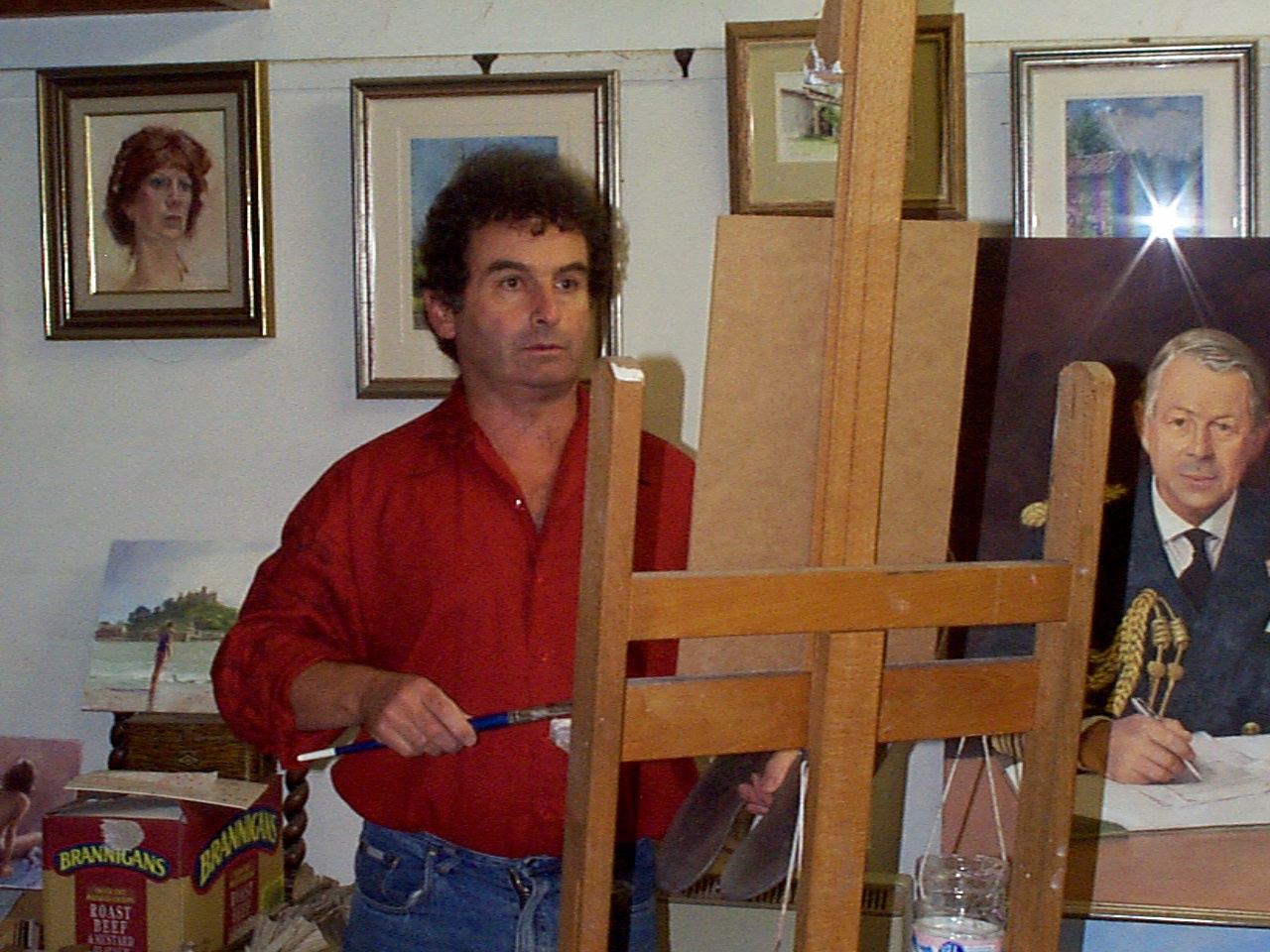 BIOGRAPHICAL STATEMENT
Born 1945 Hampstead
London.Educated
Primary school St Anthony School Hampstead
University College School, Hampstead.
Life drawing Burgh House.
Early '60s moved to Italy. Studied in the studio of Pietro Annigoni and attended the Scuola del Nudo of the Florence Academy.
Moved to Spain. First two one man exhibitions.
1966 returned to England. Married in Belgium.
Life and portrait painting at Heatherley's.
1968 onwards exhibited extensively in London and the provinces. Numerous portrait commissions.
1981 moved to Cornwall with family and ran residential painting courses for a number of years. Worked in Adult Education
Has continued exhibiting in one-man and group shows and regularly receives commissions for portraits and for figure groups in coastal settings.
Made full member of the RSMA in 2012.
Governor for RSMA on the FBA BOARD  since 2014
After my five years required as a governor I have now passed the baton to my successor in October 2020
ARTIST'S STATEMENT
Though I paint a wide range of subject matter, most of my paintings are centered around the human figure and in recent years use beach settings, in particular at the water's edge. I like to find ways in which the figure can relate to water and sand both in reality and pictorially. The visual fusion of water, sand and rock enveloping people fascinates me, and I try to use these elements as an extension of the model's mood.
PAST EXHIBITIONS
Early '60s first group show with Gruppo Donatello, Florence. First one-man shows Malaga, Spain. Late '60s Society shows at RBA galleries, Suffolk Street. RP, RBA etc. '68 and '69 first London one-man shows at Highton Gallery, St. Paul's EC4. '70s One-man and mixed shows at: Arts Unlimited, Grosvenor St. W1 Hilton Gallery, Park Lane, W1 Alpine Club, S. Audley St., W1 Ten Contemporaries, Hilton Gallery English and Italian Artists, Arts Unlimited Annigoni Exhibition, Indian Tea Centre, Oxford Street Campbell and Franks, New Cavendish St. W1 Gallery Vincitore, Brighton Gallery 20, Brighton Ash Barn Gallery, Petersfield New Ashgate Gallery, Farnham Century Gallery, Henley on Thames Foyles Art Gallery, Charing Cross Road Kensingtone Art, Calgary, Alberta Galerie de l'Etuve, Liege, Belgium
80s to present: one-man and/or regular representation at:
Waterside Gallery, St. Ives Little Picture Gallery, Mousehole , Newlyn Barbican Gallery, Plymouth Dart Gallery, Dartmouth Anna Mei Chadwick, New Kings Rd. and Cork St. Peter Hedley Gallery, Wareham, Dorset Royall Gallery, Tunbridge Wells – now Biddenden – Kent,  John Noott, Broadway, Worcs. Artifex, Sutton Coldfield,  Jack Fine Art, Helmsley, N. Yorks , Rock Institute, Rock, Wave7 gallery and St Mawes gallery Cornwall. Many group shows including the RA Summer Exhibition, the RWA  the Pastel Society and regularly with the RSMA.
Work in public collections: Britannia Royal Naval College, Dartmouth. St Paul's Cathedral, London. Truro Museum Cornwall etc.
METHOD OF WORKING
I paint in oil, though in the past I have used a variety of different media including egg tempera. For my beach compositions, ideas come from sketches and colour studies done in situ on the beach. These can be used directly to make paintings in the studio, or they can be the stimulus to produce more detailed drawings or paintings from models posed in the studio or outside, which then find their way into the final composition. I am constantly seeking new means of gathering studies in pencil or paint near the water in changing and challenging conditions of the weather and tide. When necessary, I will take photos. Sometimes, I will work entirely from imagination or memory.
AWARDS
Twice recipient of the Elizabeth Greenshields Foundation Award, Montreal.
Derwent award in 2021 in the Pastel Society Exhibition.
PUBLICATIONS
Articles for The Artist Magazine and The International Artist Magazine